Page Two of Awards Received...Thank you to Everyone!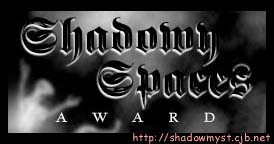 Webmistress, ShadowMyst had this to say:
"Congrats! You have won the Shadowy Spaces Award from Shadow's Den of the
Supernatural. You have also won the Dark Asylum Award.
I am happy to present both these awards to you for a site done
as well and tastefully as yours, with so much content goodness."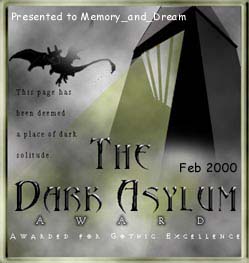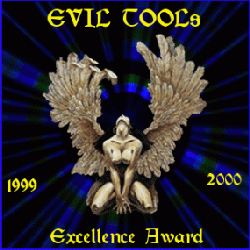 Webmaster Richard (aka: EVIL TOOL) had this to say:
"You have done fantastic job on your site. Here is your Excellence award.
I would also like to present you with my Darkside award"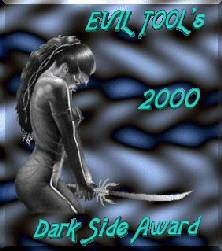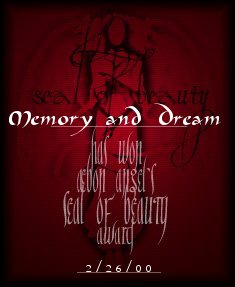 Aebon said:
"your page was lovely....here's your award..."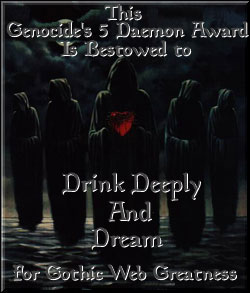 Genocide had this to say:
"I have viewed your site and have deemed it worthy of my 5 Deamon award.
May your site never be brought into the light, as true
beauty lives in eternal Darkness.."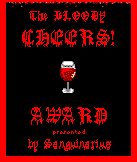 (In?)Famous Webmistress, Sanguinarius
has presented me with her "Bloody Cheers" award for Site of the Month, April 2000
She had so many nice things to say that if you click here
you can read the article she included in her monthly newsletter.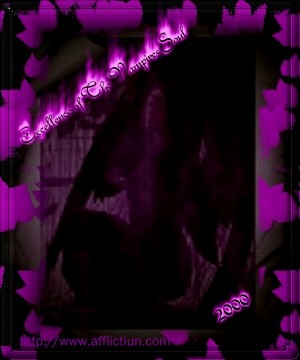 afflictiun alibaster had this to say:
I am sending you this award that I feel you deserve
for your efforts in creating a wonderful site.
Once in a while, once in a great while a site truely catches my eye and attention
and your has recently done so. I hope that you will accept the award that I am sending.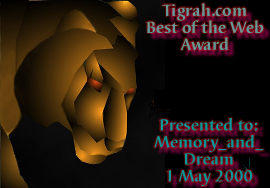 The Great Tigrah had this to say:
You have a beautiful site. I enjoyed every moment I was there. :)
Congratulations on winning Tigrah's Best of the Web!


Thank you all!