True Blood - Promo Items
A look at the "ARG" (alternate reality game) promotional items created for the HBO series.
---
These items were NEVER available for sale.
The ONLY way to receive them was by mail during the official HBO viral marketing campaign.
The complete collection!
The original, "Red Seal Mystery" envelope and letter, the test tube vial of Tru Blood and the full,
UNOPENED bottle of Tru Blood complete with black velvet pouch!

---
:: The Background Story ::
Select bloggers and website owners were sent mysterious packages last year before the first season of True Blood premiered. It started with what became known as "The Red Seal Mystery" when black envelopes sealed with a blood red seal proclaiming, "tb" started showing up in people's mailboxes. Inside, was a beautiful piece of vellum parchment with strange characters/runes/symbols, a red seal and the same "tb" logo. At first, no one knew what they were. Just that a handful of people received them out of the blue.
A few weeks later, another item arrived.
This one was in a plain white bubble envelope with custom "tb" postage stamps on it.
Inside, was a single test tube vial of "tru blood - synthetic blood."
Inside the tube was also a paper explaining about the revolution to come.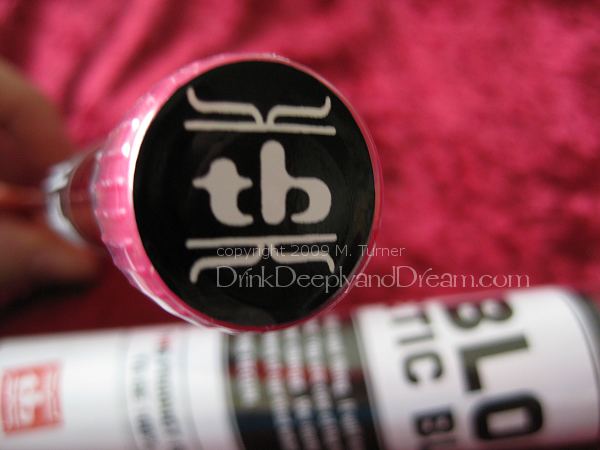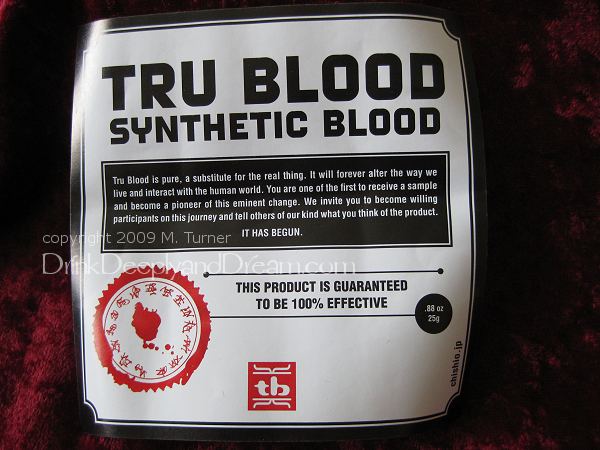 The paper reads:


"Tru Blood is pure, a substitute for the real thing. It will forever alter the way we live and interact with the human world. You are one of the first to receive a sample and become a pioneer in this eminent change. We invite you to become willing participants on this journey and tell others of our kind what you think of the product.
IT HAS BEGUN.

This product is guaranteed to be 100% effective."
It also featured the same red seal and "tb" logo.
---
Of course, those who knew about HBO's forthcoming show, "True Blood" (Based on the Charlaine Harris novels about Sookie Stackhouse known as The Southern Vampire Series) were finally clued in to what was going on. In the novels, it is the development of artificial blood - called "Tru Blood" - that prompts the Great Revelation that vampires are real to the world. The show premiered on HBO and was an immediate smash hit.
---
You can see my YouTube Video explaining about the phenomenon and the excitement of the pre-release promotion,
viral videos and more details about the mailed items here:

Direct link: http://www.youtube.com/watch?v=WQG9VPkWBvY
In late July 2009, shortly after the premier of the second season, another mysterious package arrived.
This time, it was a full bottle of the now famous Tru Blood product.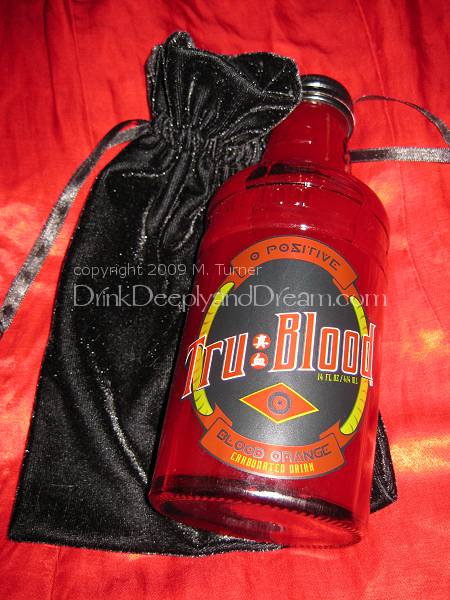 Encased in a beautiful, black velvet bag, the bottle of Tru Blood proclaims itself to be "O Positive" type and "Blood Orange Carbonated Drink." This will be a real product for sale in September. Described on the back as, "Enliven yourself with this uniquely carbonated, slightly tart, lightly sweet blood orange drink." it is an officially licensed HBO product.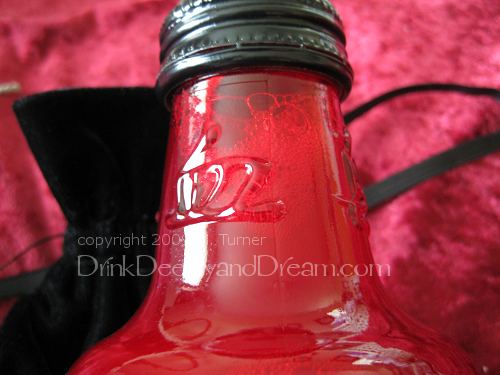 Contains 14 fluid ounces. The bottle is a beautiful, heavy glass with Chinese characters along the rim reportedly spelling, "Tru Blood."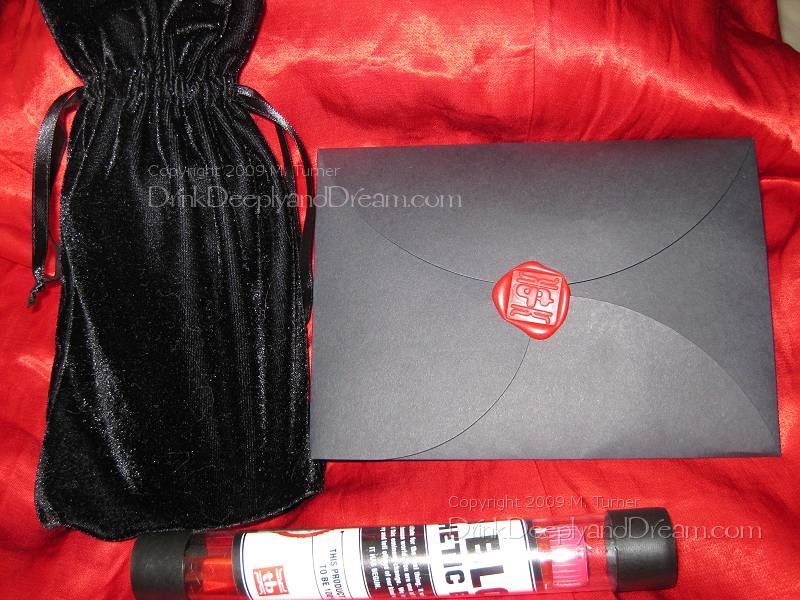 These items were sold in auction on Ebay.
I do not have any further items so please do NOT contact me asking to purchase or where to get them.